Hard Rock Memorial
I am one of thousands that collect metal cloison pins in the shape of guitars, city symbols, waitresses or whatever. These pins are made in China and are reportly costing about $2.40 to manufacture, including the handpainting. The restaurant makes no significant effort to support the collectors outside of printing an endless stream of new pins. Most all have the Hard Rock emblem embossed on them and usually the city's name there also. Anyway, unlike some of my aquaintances with over a hundred pins just as duplicates used for trading, I have been picking these up occasionally from Cafes that either I or my friends have visited.
Some of these clubs I have been to were or still are "renegade" clubs that do not belong to the francise, but set up their operations independently before the international copyright was put into effect. Since then, some of these clubs, like Toronto or Amsterdam, have been bought out and put properly into the HRC circle. There are still some of these renegades out there, and it seems to be way too much red tape to close them down, so they remain. Here in Germany, I have visited two of these, and hear there are more around.

A shot of Tina (ex-manager Berlin), Yvonne and I at her new job at Hard Rock Orlando

A picture of Thomas from Copenhagen and I having a bit of fun in Berlin!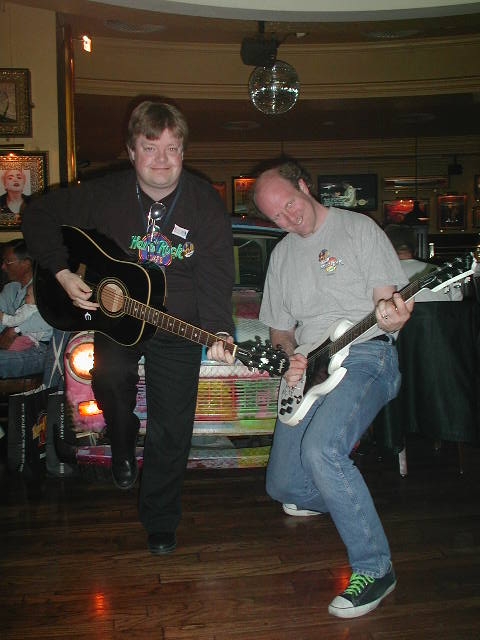 Here are the Hard Rocks that I have physically been to:

Orlando (old and new)
Atlanta
Toronto Skydome (before it was part of francise)
Chicago
San Francisco
Boston
Houston
Phoenix
Seattle
Vancouver
Nashville
Miami
Fort Lauderdale
New York City
Atlantic City
Honolulu
Maui
Kona
Sacramento
Cancun

and Overseas..
Amsterdam (before it was part of francise)
Paris
Berlin
Barcelona
Rome
Frankfurt (still renegade; more a bar than cafe)
Heidelberg (still renegade) And, as I said, some of my great friends have thought of me when they traveled and brought me back a pin or two from those Cafes. I will take a shot at listing them:

Vicki - London (my first pin)
Cecilia - New Orleans and Las Vegas
Joanna - New York City and San Antonio
Yvonne - more from NYC
Mary - Baltimore
Jim and Ellen - Memphis
Joe P. - San Juan, Puerto Rico
Randy - Lake Tahoe, St. Thomas plus a cool Atlanta pin for wedding gift
Tina (floor manager at Orlando's HRC) - Copenhagen and a bunch from Miami
Martin K. - Las Vegas
Anne G. - Reykjavik, Iceland
Mom & Dad - Gatlinburg Kristina - Montreal, Washington DC
Tilmann - Key West
Piotr - San Diego


also, three from the Far East..
Joan - Tokyo
Molly - Singapore
Marie Luise - Jakarta, Melbourne, Osaka & Kuala Lumpur

and thanks to Lou for the (now broken) HRC keychain. It has finally been retired.

Anyway, this is my place to give a big thanks to those mentioned above, and apologize ahead of time if I slightly beg for you to drop into a Cafe for me in the future. Take a look at some of the pins I have collected below, and thanks for visiting my site!