Kinder Eggs Info Page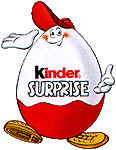 Kinder is a subsidiary of Ferraro, also popular for making Nutella chocolate spread.
Each of the eggs are packed with exciting toys. You can find these all over Europe and
it seems Canada, Australia and New Zealand too.
The most popular are hand painted figures that are scattered among the toy surprises.
Although that is also my fave, many people collect the metal-cast figures, cars or even
the 12 piece jigsaw puzzles that come out new each year. Most of the toys are part of a
mini-set of their own to give the buyer incentive to buy a few more to get a complete set.
Various sets of painted figures have been Fitness Hippos, Egyptian Cats, Smurfs of even the latest Asterix figures
from Germany or Pirating Parrots from Italy.
Take a look at some toy samples if not familiar with Kinder toys.
You can look below at my Extra Figures list or my Current Needs list.
---
Extra Figures for Trade
(German if not otherwise indicated)

As you can see, my collection of extra figures does not span such a large time span. I only started this hobby as a reaction to a couple odd figures picked up in Germany and France as well as a set of 12 given as a gift in 1997. Since then, I keep my eyes open for Flea Markets in the area and try to purchase eggs when travelling outside of Germany.

It is a loss in the USA that regulations on small toys keep these from reaching the shelves of their grocery stores or specialty stores. There have been a few notable exceptions that I have noticed. It seems the a few stores exist selling the toys to fellow collectors. One of these stores somewhere in the Miami area, and one in the state of North Carolina.

Whether the laws will ever relax enough depends on America's law system allowing people to accept responsibility for their actions. With the current atmosphere of litigation, this seems pretty unlikely. What would be worse would be if this mindset of fear reached here in Europe, but for now, it does not look likely

Series Name
Character Name
Number
Aqualad
Corallo
(1)
Miezi Cats
Miezelangelo
Orakelus
Tut Echt Nix und Tut Echt Was
Phalsch Pherbunden
Miezi und Mausi
(1)
(1)
(1)
(1)
(1)
Indians
Trapper Scharfes Auge
(1)
Funny Circus Elephants
Der Grosse Fantini
Rosi Prognosi
(1)
(2)
Fancy Foxes
Nik Neugier
Benny Bohrer
(1)
(1)
Vacation Bears
Berti Burgenbauer
Xaver Zuertsda
(1)
(1)
Castorcin (Italy)
Mamin
(1)
Hippo Wedding
Ronny Rhythmus
Jäzzy Jäzz
Papa Papperlapapp
(1)
(1)
(2)
Cooking Dwarves
Sigi Schneck Schreck
Tommy Tränchen
Karl Kleckerschlecker
Ferdi Feinschmeck
(2)
(1)
(1)
(1)
Asterix
Idefix und die Träger
Obelix
Zenturio Numerus Clausus
(1)
(1)
(1)
Los Pappagalos (Italy)
Jack O'Tarl
(1)
Pinky Piggys
Larry Lachsack
Hansi Halogenius
Flori Flirt
(2)
(1)
(1)