Mythos Card Game
---
Any of you with elementary school kids or beyond either have or will face collectable card games, for example Pokeman or Magic. Well, for the Lovecraft gothic horror fans, Chaosium created the Mythos Card game. The basic premise is to complete adventures based loosely on Lovecraftian stories with the use of Allies, Tomes, Artifacts, Monsters and a Great Old One every now and then. To judge the strength of your Investigator, your sanity level is adjusted in accordance with exposure to extreme events from the realm of the Cthulhu mythos.
The current worlds that are available are the Waking World, the Dreamlands and the New Eon. The Waking World is based on the late 1920's and early 30's, or Lovecraft's prime writing period. The Dreamlands are based on another dimension started from Lovecraft's short story, The Dreamquest of Unknown Kadath. Finally, the New Eon, is loosely based on a Mythos world that might resemble our future. Below are example cards from each time and place.
Waking World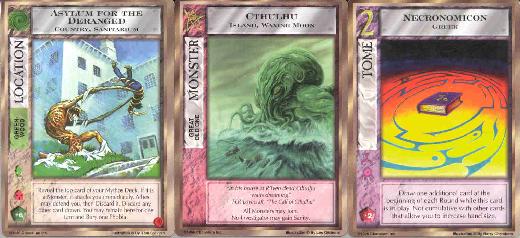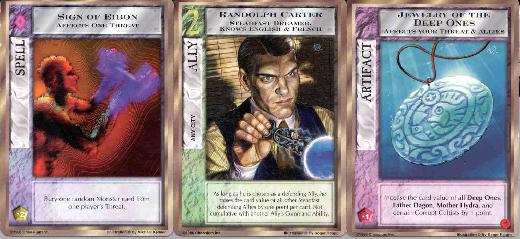 Dreamlands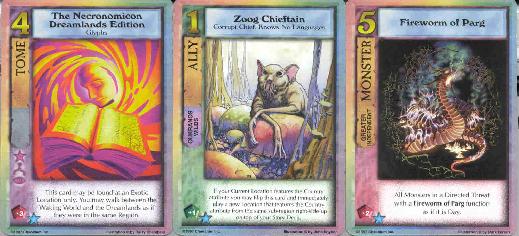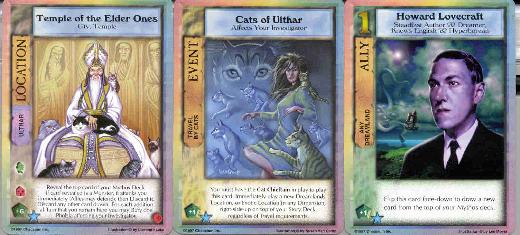 New Eon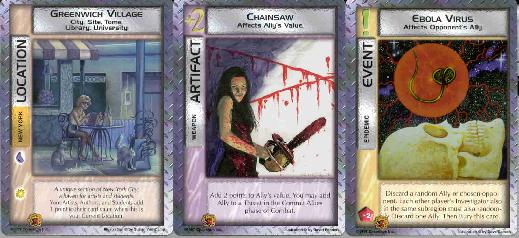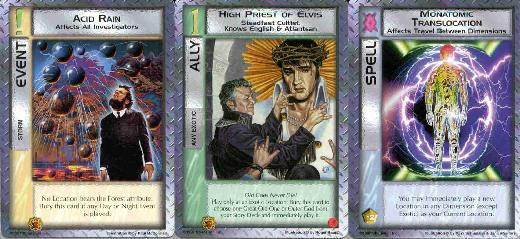 Here are some example Adventure cards, that define the story you fulfill in order to gain points needed to win the game. There is an adventure for the Waking World, Dreamlands and New Eon.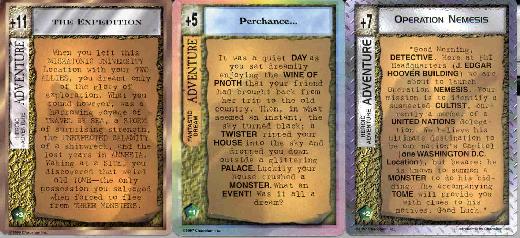 Although I have actually seen these cards for sale here in Germany (both in English and in German) the network of actual players is extremely poor both here and in the States. I occasionally attend Sci-Fi cons here in Germany with the hopes of finally others that has interest in playing. Talking to Chaosium, they tell me that although this game has had nothing near the success of Magic, the fans are extemely loyal. Check out my links page to see if I have included some links involving this game. As time goes on, I will try to expand more on this, but the best thing to do is to go directly to the Chaosium Homepage.
---
Return to Main Cthulhu Page